Farm holidays for kids
at the Fingerhof near the Alpe di Siusi
Experience the everyday life of a farmer
Farm holidays are a relaxing experience for parents, because usually the kids are so busy that parents have time to read a good book in peace and quiet on a deck chair. Your children may accompany us during our daily work in the stables and feed the cows. Collecting eggs in the chicken coop is not only exciting but also instructive, because many children have no idea where eggs come from before they spend a holiday with us. Then there are fluffy rabbits to cuddle and cute cats to play with. Even the pigs are fun to watch when they are allowed to romp freely on our farm. Do not forget to bring suitable clothing for your children.
The children's paradise at the Fingerhof
in South Tyrol
Besides the farm animals, there are still many other attractions for children at the farm Fingerhof. We have a sandbox and a swing, but mostly the children play somewhere around the house, climbing trees, jumping in the haystack, or they help in the garden. What could be better than picking raspberries and blackberries, of which a good part ends up in your mouth? The kids may surprise their mom with self-picked flowers, or go birdsong hunting. In the evening, all children will be wonderfully tired, fall into their beds and sleep until morning.
Excursions with children
from the farm Fingerhof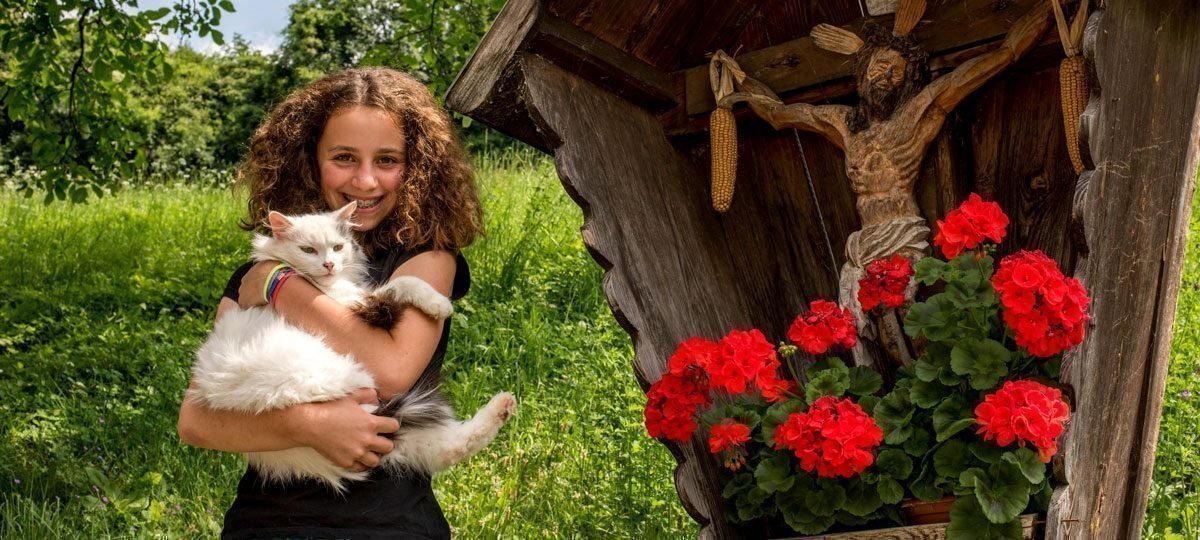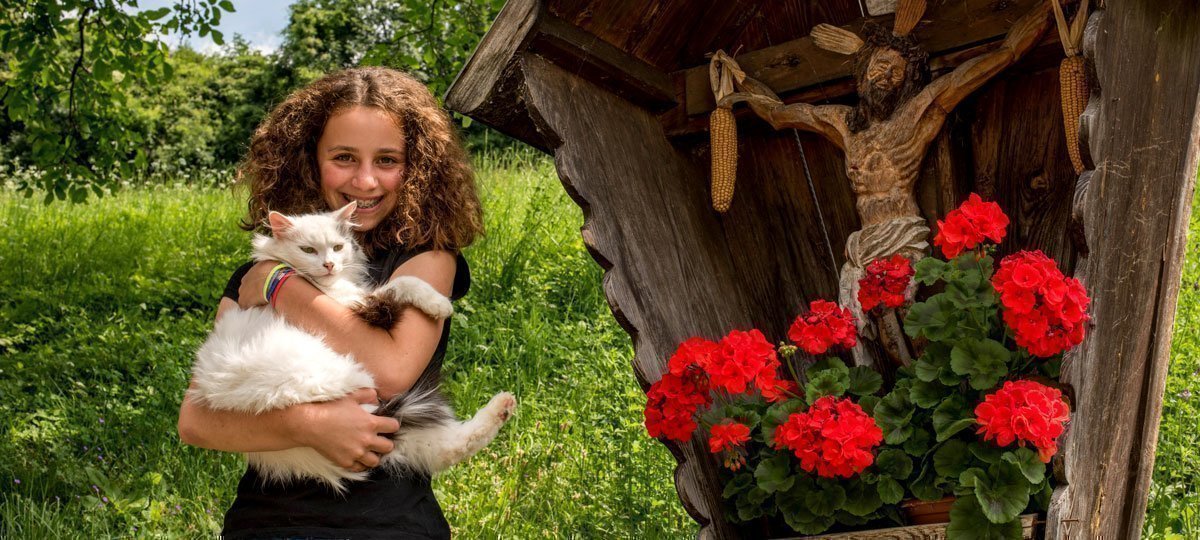 The hiking path "Oachner Höfeweg" leads right past the farm Fingerhof and is suitable also for children. The kids will love it because of its great variety, it offers several interesting stops and stations. Almost the entire itinerary is also accessible with a stroller. There is a few narrow or bumpy sections, which can easily be avoided by choosing an alternative route.
Great water fun awaits you at the nearby lake of Fiè, where you can also rent boats. Of course, the kids will also love the many chairlifts or cable cars in the surrounding mountains. Almost every mountain station offers a playground, so the parents can enjoy the panoramic views in peace.
For older children, South Tyrolean offers a great variety of museums. It's thrilling and exciting to discover the glacier mummy "Ötzi" in Bolzano. The Messner Mountain Museums bring mountains from all over the world to South Tyrol. And last but not least, there are a whole lot of castles and mysterious palaces in South Tyrol, which you can explore together with your children. For example, the Castle of Presule, which you may reach via the hiking path "Oachner Höfeweg".