Holiday in South Tyrol –
In the heart of the Dolomites
South Tyrol's variety is something that has to be seen. The Dolomites, part of the U.N.E.S.C.O world nature heritage, the vineyards on the hillsides, the large mountain pastures, the flowers and the mountain lakes…
…will improve your holiday and leave strong impressions.
Once in South Tyrol you shouldn't miss all its places of interest like the "Oetzi" museum with the glacier mummy, the historic centre of Bolzano or the Mesner mountain museums that represent life in the mountains of the entire world.
In Merano you should visit castle Trautmannsdorff's botanic garden, the Touriseum, South Tyrol's museum of tourism and the bee museum and pyramids in Renon.
If you like swimming you should go to the Montiggler lake or the lake of Caldaro, if you like exploring nature you should go to the "Blaetterbachschlucht" and if you like towns you should visit Merano or Bressanone.
Summer vacation in South Tyrol
on the farm Fingerhof in Fiè
That's the beauty of a holiday in South Tyrol: You can always come to visit us and experience our unique landscape in its seasonal beauty. Even in the summer, it is not too hot in South Tyrol for hiking; anyhow, you may cool down in our clean natural lakes and rivers. During a holiday in Fiè allo Sciliar, the lake of Fiè is your best choice. For the most audacious swimmers, there are also several mountain lakes with crystal clear and very refreshing waters.
Water fun during a family vacation
in the summer on our farm
For families with children, during a vacation in Fiè allo Sciliar, besides the various South Tyrolean lakes, there are also different outdoor swimming pools offering a variety of activities. From the farm Fingerhof, the Mar Dolomit in Ortisei is the best choice. There is a paddling pool for kids, a lap pool with a springboard for older children, but also a spa and relaxation area for the parents. Otherwise, a forty-five-minute drive takes you along different, incredibly beautiful scenic routes the outdoor swimming pool in Nova Levante.
Summer excursions
during your vacation in Fiè allo Sciliar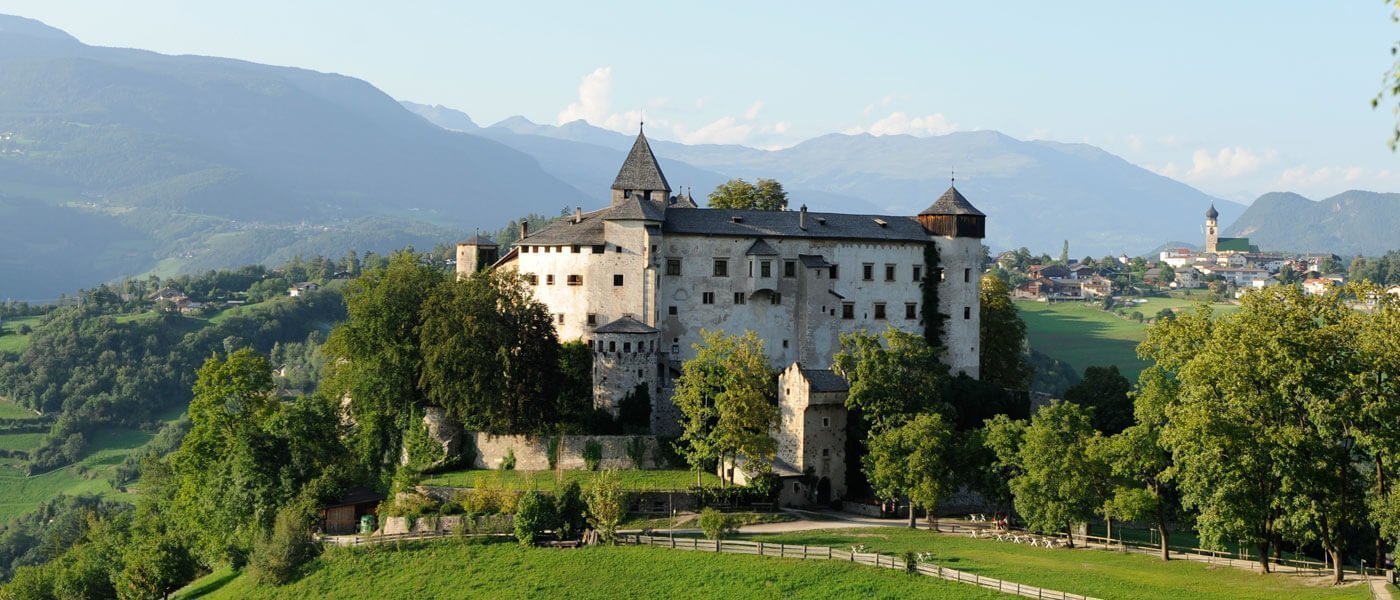 Just a few examples of destinations in South Tyrol, which we particularly recommend in the summer: the botanical gardens of Castle Trauttmansdorff and the Touriseum, the Museum of Tourism in South Tyrol. On Mount Renon, there is the Bee Museum, and of course the Earth Pyramids, formations that you would rather expect in an American canyon landscape than in the Alps. The spa town of Merano with its swanky Passiria Promenade, or the cultural city of Bressanone, which offers a yearlong cultural programme with classical music and theatre at the "Forum Cultur". No matter if you prefer history or culture, geology or nature, visual arts or architecture – in South Tyrol you may indulge in all these areas of interest.
Our local group "Farms in Völser Aicha" has some offers for all guests, which can be used by appointment in SUMMER. These include wine and schnapps tastings, farm tours, pony rides and joint vegetable and fruit harvests.  If you are interested, please contact us and we will inform you about the exact dates and times.